Room Manager Office 365 Desk Booking Solution
Are you looking into the possibilities of making your offices smarter?
Desk management is a crucial aspect of workplace organization and productivity. An effective desk management solution can help organizations optimize their office spaces, improve employee comfort and satisfaction, and reduce waste. In this article, we will explore the benefits of desk management and what to look for when choosing a desk management solution for your organization.
Improved Workspace Utilization One of the biggest benefits of desk management is improved workspace utilization. With desk management software, organizations can better understand how their office spaces are being used and identify any inefficiencies or waste. This information can then be used to optimize the office space, reducing waste and improving the overall efficiency of the workplace.
Better Employee Comfort and Satisfaction Desk management solutions also help to improve employee comfort and satisfaction. By providing employees with the ability to customize their workspace settings, such as desk height, lighting levels, and temperature, organizations can create a more personalized and enjoyable workplace, improving employee morale and productivity.
Increased Collaboration Another key benefit of desk management solutions is increased collaboration. By providing a centralized booking system for meeting rooms, desks, and other shared workspaces, organizations can improve collaboration and communication between employees, leading to increased productivity and efficiency.
Real-Time Reporting and Analytics Effective desk management solutions also provide real-time reporting and analytics features, allowing organizations to monitor and analyze the usage patterns of their office spaces. This information can be used to optimize the office space, reduce waste, and improve the employee experience.
Enhanced Health and Safety With the current pandemic, health and safety have become a top priority for organizations. Desk management solutions can help organizations to ensure the safety of their employees by providing contactless check-in technology, real-time desk availability data, and occupancy sensors.
Easy desk management
With Room Manager Desks, your employees can reserve a desk and take a health questionnaire before coming on-site.
Some Key Questions to consider for Workspace and Desk Management:
How many desks are available right now?
How are requests processed and reservations
made?
What are confirmation standards in place?
How can employees change or cancel their
reservations?
Health Questionnaire
Employees must complete their health questionnaire and meet your criteria to reserve a desk in the office. All replies are saved backed by MS Forms, and triggers can be defined easily with Microsoft PowerAutomate.
Block the user
Approve / Disapprove
Create a pass with Barcode
Custom triggers that meet your criteria
Send Notifications to HR
Book single or multiple desks
The booked desk will be assigned for a single or multiple days. People can see where they are sitting that day. The floorplan shows in green the available free desks.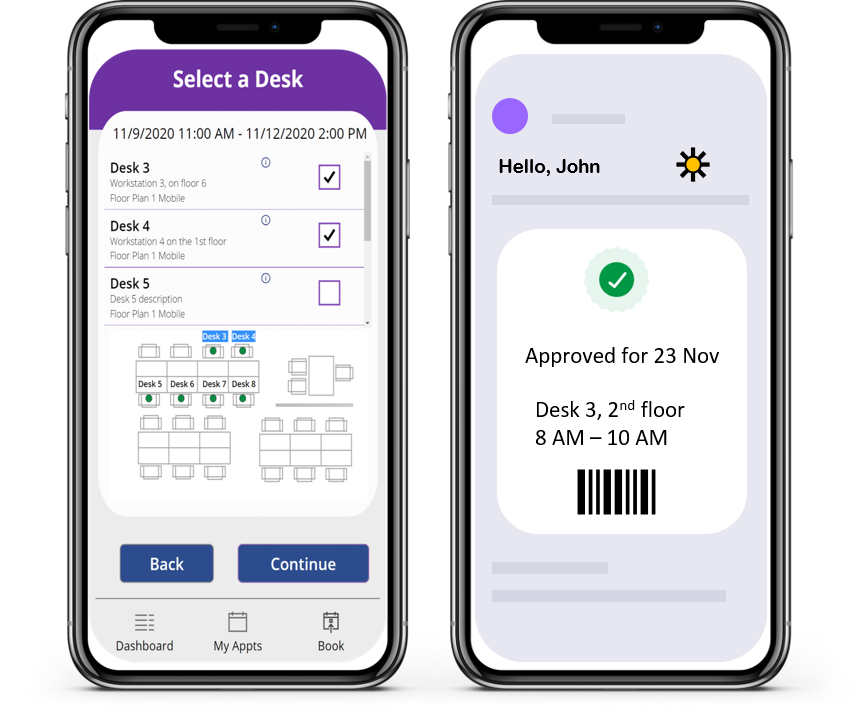 Room Manager helps your business revisit the workplace.
Before the lockdown,
assigned desks
occasionally working at home
with no preservation of the desk
just came to the office and sat down for a free desk. no checking in, no checking out, no cleaning, and no sanitization
today
Many employees will remain working from home due to safety and reduced desk availability in the office.
Search for free desks by location and floorplan
After checking out from the desk, send notifications for cleaning services using Power Automate.
Take a survey & questionnaire online on the app before booking the space
Add custom flows with Power Automate to meet your business logic