Fleet Management Solution: Streamline Your Operations with Office 365
Introduction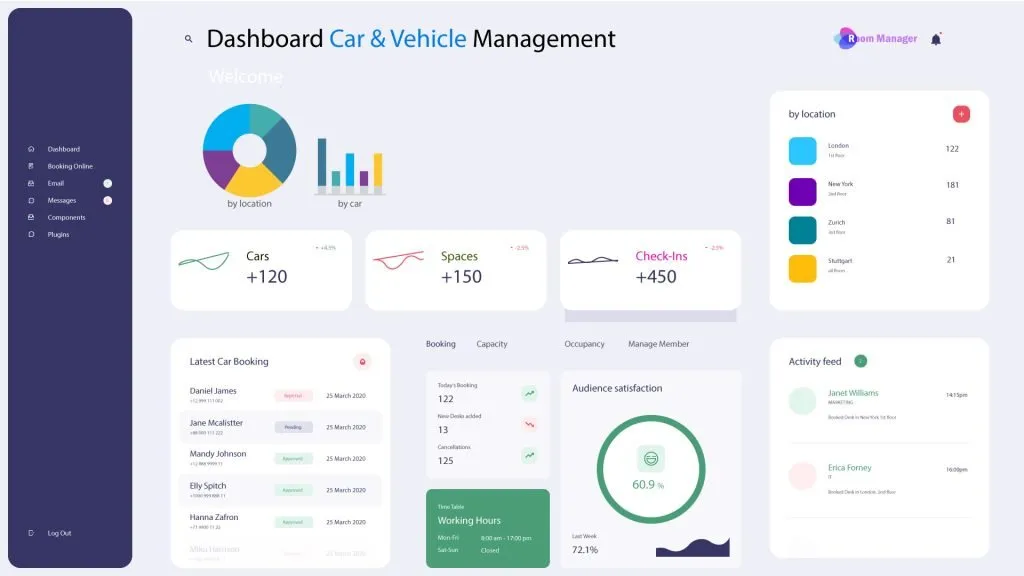 Fleet management is the process of overseeing and coordinating the operations of a company's vehicles. It involves various tasks, such as vehicle reservation, maintenance planning, and scheduling, to ensure optimal performance and cost-efficiency. Implementing an effective fleet management solution is vital for businesses that rely on transportation and logistics to remain competitive and profitable.
Key Components of a Fleet Management Solution
Vehicle reservation and booking: Streamline the process of reserving and booking vehicles using tools like the car Booking App and Outlook Add-In.
Check-In Check-Out: Track vehicle usage, monitor driver performance, and manage access to vehicles with a check-in and check-out system.
Maintenance planning and scheduling: Schedule regular maintenance to ensure optimal vehicle performance and reduce downtime.
Mobile Room Manager App for car and Vehicle booking: Reserve and manage reservations on the go with the Room Manager Mobile App.
Car Manager Outlook Add-In: Seamlessly integrate vehicle reservations with your Microsoft Outlook calendar using the Outlook Add-In.
Benefits of Implementing a Fleet Management Solution with Office 365
Enhanced operational efficiency: Automate processes, streamline workflows, and improve communication with Office 365 integration, including car & vehicle booking system Microsoft Teams.
Cost reduction and control: Optimize vehicle usage, reduce maintenance costs, and minimize downtime with practical fleet management tools.
Choosing the Right Fleet Management Solution
Microsoft 365 integration: Choose a solution that seamlessly integrates with Microsoft 365, providing access to tools like Microsoft 365 Copilot and the car & vehicle booking system Office 365.
Power Platform Integration: Leverage the capabilities of Power Apps, Power Automate, and Power BI for enhanced customization and automation.
Ai integration with Microsoft 365 Copilot: Utilize AI-based features for room and desk booking available with Microsoft 365 Copilot.
Factors to consider when selecting a solution: Assess your organization's specific needs, compare features and pricing, and consider the level of support provided.
Assessing your organization's specific needs: Determine the scale of your fleet, the complexity of your operations, and the features required to manage them effectively.
Real-World Success Stories
Explore customer case studies that showcase the benefits of implementing fleet management solutions, such as improved efficiency, cost savings, and enhanced customer satisfaction.
The Future of Fleet Management
Watch upcoming trends and technologies like ai integration. Adapt your fleet management strategy to the evolving industry landscape to remain competitive and innovative.
Car & Vehicle Reservation App
Introducing the Car & Vehicle Booking App, developed using Microsoft PowerApps, offering a comprehensive and customizable solution for managing your organization's vehicle bookings. This feature-rich app enables users to update mileage when checking in the car, sends email reminders when the car isn't checked in, and allows the blocking of cars.
Bookings can be restricted to specific users or groups. Rules can be defined for booking durations, such as short-term vehicles being bookable for 24 hours and only one week in advance. Service interval alerts and warnings can be configured for each car, ensuring timely maintenance. Customization is a breeze with the integration of custom lists and workflows, and it also supports importing finance account codes from your legacy system. The app boasts a main calendar for the car manager. It is compatible with mobile devices through PowerApps, making it an all-in-one solution for your organization's vehicle booking needs.
Conclusion
In summary, implementing an effective fleet management solution is essential for any business that relies on transportation and logistics. By integrating tools like Roommanager and Office 365, you can streamline your operations, reduce costs, and enhance the overall efficiency of your fleet. Don't hesitate to explore and implement the right.