Conference Room Displays placed on the wall outside the meeting room.
The Room Manager Solution can be used with any IOS or Android display touch-sensitive screen that is placed on the wall outside of the meeting room. The system is connected to the Room Manager Website. No additional software is required.
All important information is displayed on the screen: the same way it is on the Room Manager Web Site current time, room name, starting time and finishing time of the meeting in progress and how long the meeting will continue, as well as who is the organizer of the meeting.
Additional Information can be added, optionally. The touch-sensitive screen displays an overview of the booking status and enables you to book the room, confirm a booking, cancel a booking or extend a meeting in progress. Any Device can be used. The Room Manager Conference Room Displays are designed with Microsoft PowerApps.
Efficient meeting management in combination with Room Manager for SharePoint O365
Touch-screens located outside the meeting rooms
Efficient meeting room management
Show the current meetings going on
Day, Week and Month View
Extend the current meeting
Cancel the meeting
Report a problem connected to technical equipment in the meeting room. (optional)
Book an instant meeting directly on the touch screen
Customization with Logo and Branding in PowerApps Studio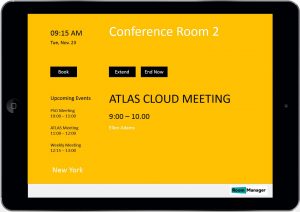 Our customer Abatex noticed it was hard to find space to meet mid-week since 50% of their meeting rooms were already booked at the beginning of the week. To solve this issue, they instituted a strict check-in policy. Now, if no one shows up to the room within 5 minutes, space automatically frees up for others to use.