Unlock the Full Potential of Workspace Management with Room Manager and Power Platform Integration
Integrating Room Manager with the Power Platform can help organizations tap into numerous benefits that elevate productivity and resource management. By harnessing the combined power of these platforms, businesses can experience the following advantages: Read here about the benefits of the Power Platform Integration and the advantages you get.
Streamlined workflows and increased efficiency
Integrating Room Manager with Power Automate empowers organizations to automate repetitive tasks such as booking confirmations, cancellations, and reminders. This automation saves employees time and minimizes the risk of human errors, resulting in a more efficient workspace where resources are optimally utilized. Employees can focus on their core responsibilities.
Enhanced customization and scalability
Power Apps integration allows businesses to create custom applications tailored to their needs. These applications can be easily modified and scaled as the organization grows or its requirements evolve. This ensures the Room Manager solution remains relevant and adaptable even as the workspace landscape changes.
In-depth analytics and insights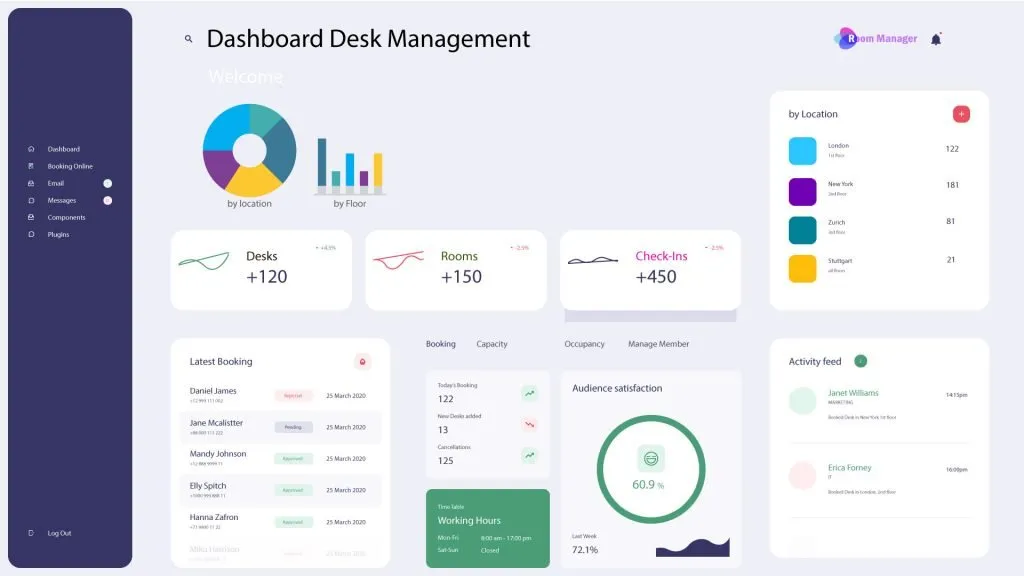 Integrating Room Manager with Power BI enables organizations to access advanced analytics, empowering them to make data-driven decisions about their workspace usage. By analyzing room and desk utilization data, businesses can identify trends, optimize resource allocation, and maximize the efficiency of their workspaces.
Improved communication and collaboration
Integration with Microsoft Teams allows employees to book rooms and resources directly from their favorite collaboration platform. This seamless integration promotes better communication and teamwork, as team members can easily plan and schedule meetings or events without leaving the Teams environment.
Centralized data and insights
Connecting Room Manager with Power BI provides organizations with a wealth of data and insights in one place. This centralization of information enables decision-makers to quickly identify trends, patterns, and areas for improvement, leading to better resource allocation and workspace management.
Greater flexibility and mobility
Integration with Power Apps supports the development of mobile applications for booking resources, empowering employees to reserve rooms, desks, and other resources from smartphones or tablets. This offers greater flexibility and mobility in the modern hybrid work environment.
In conclusion, integrating Room Manager with the Power Platform gives businesses a powerful combination of tools that drive efficiency, customization, and adaptability. By leveraging these capabilities, organizations can optimize their workspace management and create an environment that fosters productivity, collaboration, and innovation.