Desk Booking System
The benefits and reasons why you should use a Desk Booking System
What is desk Booking?
"A workplace strategy that allows office workers and visitors to search, book, and share desks or workstations over a specified time frame."
Why would you use a desk booking system? What are its benefits? When should you consider using this type of software for your business? These four points will answer these questions and more.
This article is about why you should use a Desk Booking System. There are many benefits to using a desk booking system, and we will look at four of the most significant. The first benefit of using a desk booking system is that it's quick and easy. Most plans have an intuitive design so that you can sign up without prior knowledge. It's also easy to navigate the system, find bookings and make changes as needed. When employees arrive at your site, they know the room or desk they have booked. They know what they want and where they want to be. This is all thanks to your desk booking system, which allows you to show off the best of your rooms and desks with all the details right in front of your employees. People love the convenience and ease of booking rooms and desks. The more convenient it is for them to book a room or desk online, the more likely they are to do it. Without an excellent online reservation system, people will be reluctant to reserve online and will look elsewhere for their needs. Choosing a desk booking solution will reduce your employee's fears about booking online.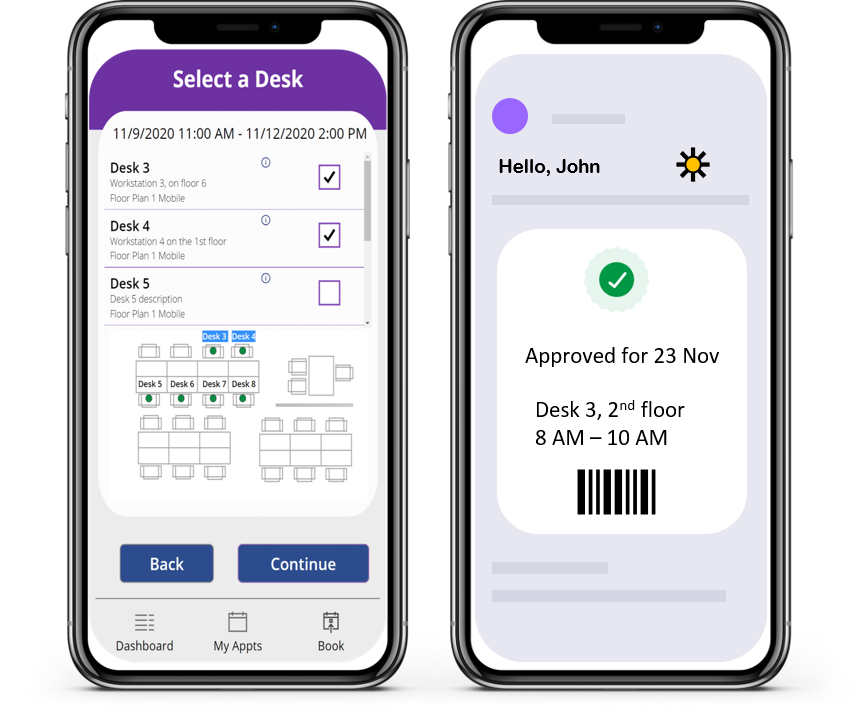 1. Customization
Room Manager has developed a custom-made booking engine based on office 365 and Microsoft Power Platform for companies that can be customized according to your needs.
The system is highly flexible and scalable – you can be sure that Deskbooking will work for any business or company! You'll find all of their features listed on roommanager365.com
2. Professionalism
When it comes down to professionalism, Desk Booking will deliver on all fronts. Their staff members are always ready and willing to help their employees with anything they need! In addition, they have a very friendly and supportive environment that makes for an enjoyable experience for the employees.
3. Flexibility Room Manager Desk Booking offers its
How easy is it to add a new custom field? How easily can you manage and update your office or floor plans?
Centralize Desk Booking System
The desk booking system will break down if there is no distinct process for request booking and desk management. Automated efficiency is achieved when companies centralize the booking management process in their Integrated Workplace Management System. This can be accomplished by answering the following questions:
What is the number of available desks at the moment?
What are the standards of confirmation being used?
In what ways can employees cancel or modify their reservations?
How requests are processed and reservations made?
Are approvals needed, what kind of approval do you want to use. Take Power Automate as a service for custom flows.
Are check-ins required when an employee reserves a space, desk, meeting room?
What rules and policies do you want to implement (Microsoft PowerAutomate, can be used for this kind of scenario within Room Manager)
Are Flows and notification services be sent (Microsoft Notification services can be used within Room Manager)
Hoteling systems can be better shaped when facilities managers employ the use of workstation management software in automating everything, from booking requests/modifications to measurements of utilization metrics.
Do you need to create a confirmation email for the booked desk?
Do you want to send a QR code with the desk booking confirmation to the employee?
Do you need to sign in with the QR Code?
Desk Booking System
A better desk booking system
Drag and Drop the desk from the interactive floorplan
Use areas and zones for your desk booking experience
Allow users to book from an online form, office map, and mobile app
Filters can be used to find the suitable desk and space better
Hybrid Work Model
Hybrid Work models and Virtual Offices are the new trends these days. If you are starting a business, you will have to decide which one suits you better. Till now, the conventional way of working was from home or from an office. But today, with fast-growing technology, there is a need for a change in the business process as well.
Today it has become very essential for people to work from anywhere according to their convenience because many businesses have branches across the country which make it difficult for employees to travel frequently and waste their time on the road, which is why they started to look for some software which can help them with their regular work tasks.
According to a recent survey published by Gartner, more than 70% of small businesses are using alternative work arrangements. And it is expected that this trend will continue in the future as well.
Hybrid Work is one such arrangement that enables people to work from home or any remote location they want as long as they do their regular work tasks assigned by their managers and get them done on time.
Offices provide all kinds of services required by employees so that they can stay connected with other co-workers and customers even if they are not physically present at their branch office which will be reduced to 2 days per week.
Social interaction with co-workers remains very important.
Which Desk Booking Platform to use
There are several key factors you should be aware of when selecting which Desk Booking platform to use: Your business type and needs. Some platforms are more scalable than others, with more features for larger companies. If you're a small business, you might want to choose a simpler platform that's designed specifically for small businesses. Setting up your account. Some platforms are easier than others to set up and get started with. Look at the feature sets of each solution and make sure that it's easy to set up your bookings and start taking reservations right away. Also, if you have multiple locations, make sure that the system supports multi-location setups (for instance, an online system that can connect your offices in different cities). Ease of use. If you're not tech-savvy, you might need a simpler booking tool that is easier to use on a day-to-day basis. You also might want something with features or integrations for things like catering, equipment, parking slot bookings. And last but least the integration of visitor management. Safety checks before guests and visitors arrive on site can be done with the solution. Send a QR code to the visitors and employees with the desk booking confirmation email. Allow touchless sign-in at the lobby using a visitor or employees registration app.
A number of factors are taken into account when you are choosing a new software solution for your business. The first thing that you should consider is whether or not the company has up-to-date technology, as well as online support resources. Another important factor to consider is the pricing structure, and finally, the ease of use of the platform.
Room Manager Office 365 Desk Booking Solution
Are you looking into the possibilities of making your offices smarter?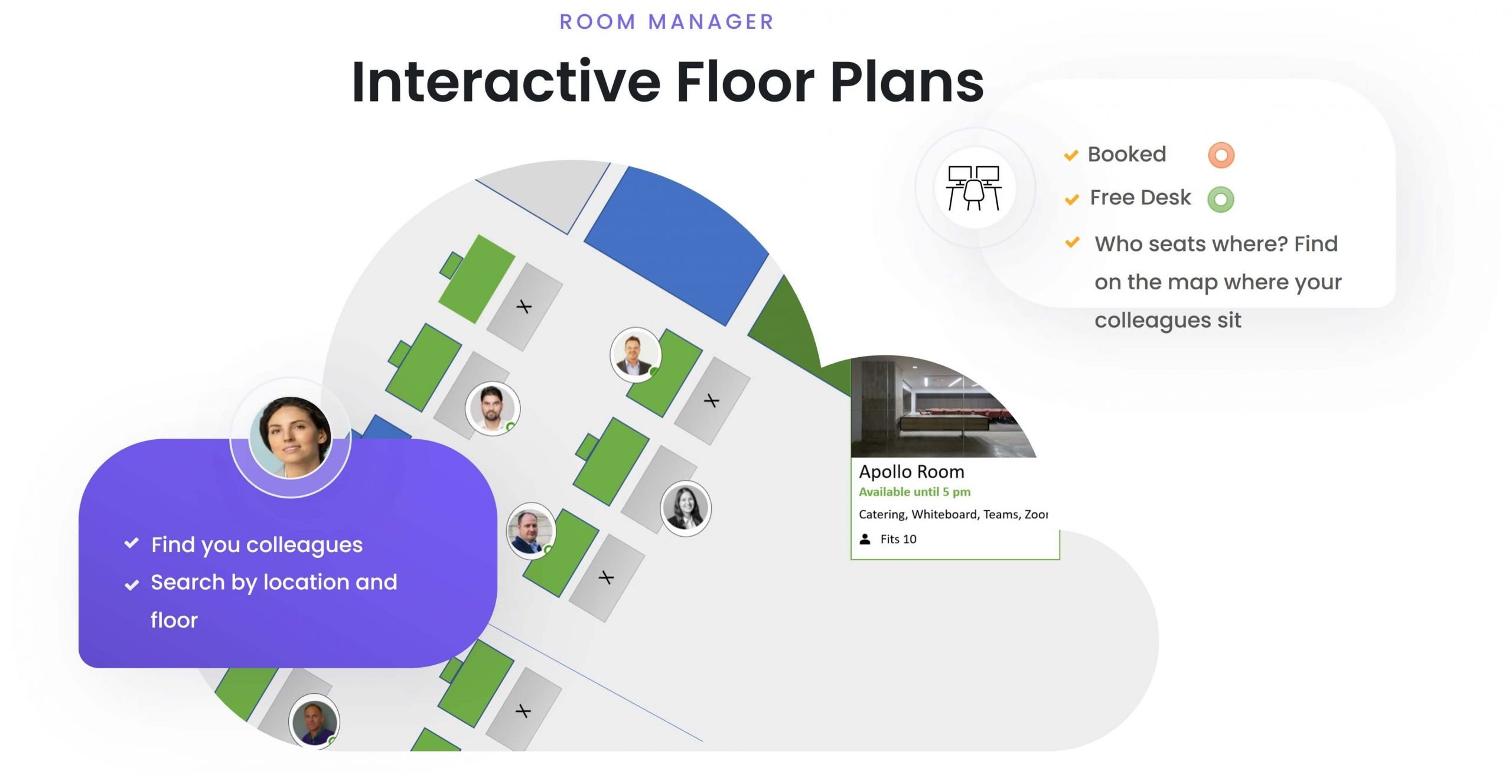 Visual Interactive Floor and Office Plans
The Interactive floor plan is a new and innovative tool that will help you not only to save time and money but to plan and control all of your desks and rooms available for a given location, date, and time. Visual Interactive Floor/Office Plans are designed to be as simple as possible so that you can use them in your daily work, saving you time and money.
Gives you a great overview of locations and floors.
Here are 4 things you should know before you start to use the Interactive floor plan booking:
The Floor Plan application has been developed for easy use on any mobile device with Android or iOS operating systems so that you can access it from anywhere at any time. The application includes many features to make planning your employee's visits easier, including Keyword Filtering, Booking by departments, Showing user profiles, who sits where?
You will be able to search and find colleagues and book a desk on the same floor for a given day and time. You can even create a floor plan of your own workplaces and update dynamically with NO need of converting the office plans as some competitors offer. We keep it simple, all you need is image files of your floors and offices. You will also be able to add photos of your workplace if required and save various versions of the floor plan. You can manage all of the information about your desks, spaces, and rooms such as their name, ID number, desk, and room details, and even images/pics of the resources.
Conclusion
Desk booking is the new way in the hybrid work to make their bookings. The trend has already taken off in Europe, but it is starting to take hold in America as well. If you are a company, it is important that you know how desk booking works and what you can do to make the most of this new tool.
What Are Desk Bookings and what are our needs and requirements?
What is available on the market? What are the pros and cons?
What is my budget for the solution?
Do we have the funding from the management?
Will our employees be willing to change the new way of desk and room booking?
Can you define your use cases? It is a hard job, we know but I guess this is one of the main tasks you need to define first before you look for a solution.
The main disadvantage to using a desk booking is that you have less control over the acceptance of the employees for the new working model
This means that employees will not feel confident to make a reservation of a desk in advance. You need to explain and inform about the advantages why you need this new reservation system.
Prevent unoccupied rooms and desks
Prevent no shows
Optimize the available space usage and track the history of the utilization
Challange the pandemic situation with Covid19
Make a safer workspace for all
It is important that you set your policy ahead of time so that people know exactly what will happen if they will use the new desk reservation system